BEGINNING INTERMEDIATE ADVANCED CHOREOGRAPHY SPECIALTY GET STARTED NOW!
ARE YOU READY TO FIND FITNESS, FRIENDSHIP AND FUN..... ALL IN ONE PLACE?? TRY A BELLY DANCE CLASS WITH ONE OF THE MOST EXPERIENCED AND CREATIVE BELLY DANCE TEACHERS TODAY!

WE'VE JUST MOVED!!! Come to our private studio in La Center, WA and s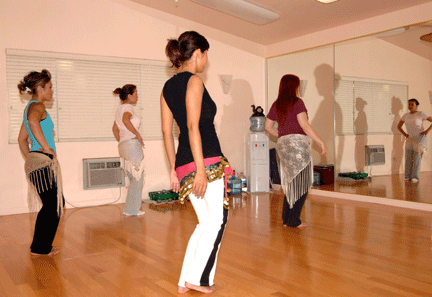 ee what our belly dance classes have for you!
707/837-1793
Class schedules being set up now. Call 360-263-5800 or email enchantmentunlimited@prodigy.net for class information.
Click here for class fees and to sign up
**Not in the area? CLICK HERE for info on our instructional video and DVD programs that allow you to learn how to bellydance no matter WHERE you live.
"I walked into my first belly dance class with Amira in October of 2003. I was an astonishing 62 pounds heavier then. I felt awkward and out of place as I stood waiting for the class to begin. I just knew in my heart that I wouldn't be very good at this but I had to try.

From the moment she took her place at the head of the class she had my undivided attention. She never made me feel awkward even when it was hopelessly obvious that I didn't know what I was doing. She just encouraged me to keep going. Never apologize for being who you are. Embrace it and dance. Since then my waistline has dropped and my confidence has risen. She helped me to remember what it was like to feel strong and sexy at the same time.

I have had many opportunities to watch Amira belly dance and she never ceases to absolutely captivate me. She is as knowledgeable in technique as she is passionate about her art form. She is a capable yet patient teacher and a mesmerizing performer. She possesses an inner strength that is both calming and empowering. "
Sheryl Ison-Student, Windsor, CA - Essence of Egypt Dance Company Member and Performer
What will these classes do for you?
You'll be SHOCKED to find out!
If you are a beginner, I will take you through the basics of belly dancing from the ground up. With over 30 years of belly dance teaching experience, I can help you work through anything! You don't need any experience - I'll take you through it step by step:
Stretching, toning and strengthening, and how to protect your body from injury - great for the newly active too!

Discovering and correcting posture issues effortlessly so you'll look better all the time

Egyptian posture for belly dance

Basic isolations and body control

Basic movements, walking steps, and basic combinations

Discovering your body's own unique flow of movement

Understanding Middle Eastern music and culture
....and that's just for starters!
"As a trained teacher, I know that the best teachers are the ones that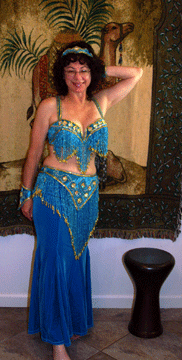 touch all three primary learning bases in a student's repertoire. These three are audio, visual, and hands on. But while many teachers are trained to do this, few are actually able to accomplish this in real life teaching situations. Jana/Amira is one of the few that can and does.
As far as dance teachers go, Jana/Amira, is by far the best I've ever seen or had the opportunity to learn from. She is very patient and understands her student's needs. At the same time she is able to relate to them and tell stories from her own life that makes her down to earth, reachable, and shows that she really does understand the struggles of every student attempting to learn and/or master the art of belly dance. Her ability to access her student's skill level and taylor the lessons to each one's skill is truly amazing.
There is an old saying: Many are called but few are chosen. Jana/Amira is definitely one of the chosen and I can't think of any other dance class where I have had such a wonderful teacher. She is not just a great dance teacher though she is also a terrific belly dancer. While many dancers are great dancers they are hard put to be able to break down steps and explain them to where a novice can understand them. Jana/Amira is not only able to do that and do it well but she also makes learning fun. Her comments on the customs, culture, and history of the origins of belly dance are intriguing and fascinating adding a certain pizzazz to an already fabulous class.
Another thing that I really like and appreciate about Jana's belly dance classes is that if a student has a difficult time learning a particular step she is more than willing to take extra time and go over that step with the student until they have a firm grasp on how to do it.
If you are thinking of taking a belly dance class I can't recommend this one enough. Take it. I promise you you won't be sorry."

Yvonne Keiser, belly dance class student - Windsor, CA
If you've ever pictured yourself becoming a belly dancer (or improving as one) and possibly performing, you've got to check out these classes!
As an exercise form, belly dance works every muscle in your body and is extremely healthful, energizing and is a great tool for toning your body and losing weight.
It's easy! Just email me at enchantmentunlimited@prodigy.net and request directions to the studio, and let me know which class you're interested in. I'll confirm we have space and answer any questions. Then, just come on in! Simple.
WHAT KIND OF BELLYDANCE STYLE IS IT??
With all the dance styles out there, that's a very legitimate concern these days.
Our classes are based on traditional Egyptian Cabaret style, the glitzy style you'd see in a Cairo nightclub today. From there, we build with all the other classical styles: Folkloric, American Tribal, East Indian, Goddess Dance, Persian and also fusion... just about anything that can add to the dance form. Then we go on to pull from ballet, jazz, ethnic dances and yoga.
The result? A strong, athletic, creative style of dance that is constantly changing and growing with you, so you never get bored!
This is NOT a class with a dancer who's taken a few classes and now wants to make some money. Amira has studied, performed and taught for 30 years, and is one of the most competent teachers in the business. Don't trust your body to someone who doesn't know how it works! Work with an experienced and capable teacher who can help you learn, grow and excel in belly dance.
To find out more about Amira's training and dance background, CLICK HERE.
These classes are friendly but structured, with every move explained. We believe the student learns by understanding how the body works and how to make it move, and the teacher is obligated to help each student learn the moves correctly, both for the grace of their dance form and the health of their bodies. Questions in class are welcomed.
As an example, most of the girls in the Essence of Egypt Dance Company started in the studio with me as rank beginners, and within a year were performing with the troupe - some sooner than that!
Every class includes:
Full stretching and warm up for muscle elasticity, body flexibility and strengthening

Body isolations - working individual muscle groups

Introduction to and/or drilling of basic moves for bellydance

Grace, posture, correction of body positioning for the best dance posture

Exercises for improving weak body areas and overall posture

Classes start slow and build as your body warms up enough to do the next level of movement
Classes may also include:
Various levels of steps, combinations, walking steps

Layering of movement

Choreography

Finger cymbals

Veil work

Understanding Middle Eastern music and rythm
Bellydance Class Schedules coming soon! Call 360-263-5800 for information.
360/263-5800
What makes this program different?
In a very short time -
You will gain self confidence through posture, grace, strength and endurance

You WILL feel better, look better and DANCE better!

You will learn from someone who understands YOUR problems and roadblocks, having experienced them, who will personally guide you past those hurdles to the next level and beyond

You will come away from each class a stronger and more professional dancer and feel stronger in your body

You CAN do it! You can do what is necessary to achieve AMAZING results – Guaranteed!
With this unique instructional belly dance system, you can achieve the absolute BEST you are capable of as a dancer, whether you're just starting out or have been dancing for years.
Imagine what your life will be like when...
You FINALLY master your body flaws!

You completely MASTER your muscles, one at a time!

You gain energy and technique in leaps and bounds in the studio!

You have complete confidence and true passion in performance!

You finally create a career in dance!

You move forward with great momentum!

You finally experience both personal and creative freedom!
360/263-5800
DANCE CLASS SCHEDULES coming soon. Call 360-263-5800 for information.
"Having performed and studied with Amira for over 17 years, I can testify both to her skill and creativity as a dancer and her dedication to the art form.

Amira's command of dance technique is superb and is based upon a dedication to the classical forms of Egyptian Raqs al Sharki. Her dancing is supported and enlivened by her deep study of Egyptian culture, both ancient and modern. In terms of physical preparation and technique, she demands much of both herself and her students, but the result is superlative technique in performance. Her choreography is exciting and creative. Her background as a professional musician gives her an unsurpassed sense of how to match movement to music, and this is evident in the sure artistry with which she creates dances both for herself and for others.

Other things that distinguish her are her unusually highly developed skill as a drummer, her professionalism and business experience, and her unselfishness and openness as a person."

--Kirk Templeton, Wind Mountain Institute /Martial Arts trainer/ Middle Eastern Percussionist
What classes do we offer?
What to wear: Fairly tight fitting, stretchy clothes, dancewear or yoga attire is fine. Be comfortable. We dance barefoot, and water is available in class. If you have a scarf or hip belt you can wear around the hips, bring it.
What it costs: $12 / class, 6 classes for $60, or 10 classes for $95. There are also lots of ways to earn free classes.
*** Our next Student Hafla (performance day), date TBA, will be in the Summer. Call for details and bring a friend. Dance performances, food and door prizes are just the start!
Interested? Click here to see our current class schedule - NEW SCHEDULE COMING SOON, then email Jana at enchantmentunlimited@prodigy.net or call 360/263-5800 to discuss which class would be best for you and to get directions to the studio.
For more information about the teacher, Jana (aka 'Amira') click here.
For information on the Essence of Egypt Dance Company, if you're interested in joining, click here.
For professional dancers, you will also have access to:
30 years of sales and marketing experience

You will learn how to get restaurant gigs and negotiate your price

You will discover how to market yourself on someone else's dollar

You will see how you can build a costume wardrobe on a budget

You will learn how to avoid performance disasters so they NEVER happen

Where to find all the best: information, supplies, music and so much more!
"It doesn't matter if you're a beginning belly dancer wanting to learn RIGHT from the start, or an experienced dancer wanting to achieve AMAZING improvements in style and body posture – this format will work for you…. Guaranteed!!"
Try a 6-week session and give it your best, and if you cannot see any improvement in your posture, dance moves, endurance or any other aspect of your dance, I will give you
your money back
.
Most of our belly dance classes are taught in a private studio in La Center, Washington so the address is not published but complete directions will be provided after we speak. Or just email me at enchantmentunlimited@prodigy.net.
360/263-5800
Click here for a DANCE CLASS SCHEDULE - COMING SOON
If you're interested in studying via instructional belly dance video or DVD, that is also available: click here for instructional belly dance videos and DVD's.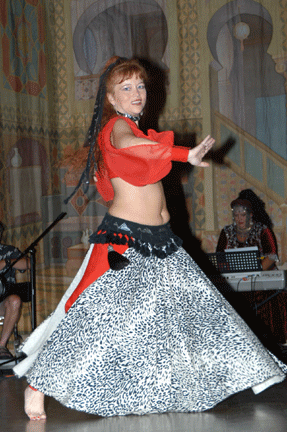 Most photos on this site are courtesy of Michael Puzach, Essence of Egypt Dance Company photographer.