NEW! JUST RELEASED!! $17
Mat Yoga Practice with Amira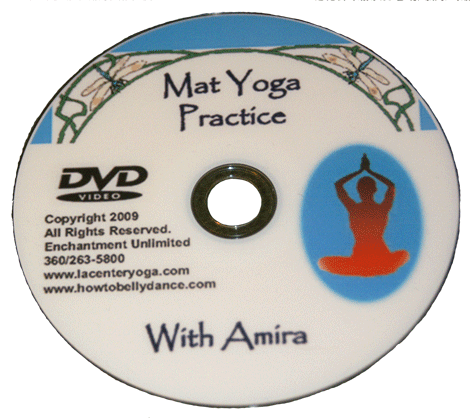 Now you can do an EASY, EFFECTIVE yoga practice in your home!
Click here now to purchase our Yoga DVD. **

If you're intimidated by formal yoga classes or just don't want all the philosophy, this easy, floor practice routine is for you! Amira is a certified, experienced yoga teacher who focuses on yoga for dancers: Stretching, releasing the hips and other joints, increasing flexibility. You don't have to look like a 'yoga girl' to do this - it's suitable for people of any size, age, sex and condition. If you can sit on a mat on the floor, you can do this.

DVD includes:
Healthy Yoga Breathing - great for while you're dancing too!
Stretching the Leg & Arm Muscles
Increasing Tendon Length and Health
Opening the Hip Joints
Increasing Range of Motion
Stretching and Strengthening Back Muscles
Increasing Abdominal Strength
Increasing Balance and Strengthening Core Muscles
and so much more....
This is the perfect yoga class for you if:
You lack flexibility
You could use better balance
You're recovering from an injury or have been inactive
You're trying to lose weight and gain strength
You want to keep in good dance condition
This workout makes a GREAT performance warm-up!
I recently tore a tendon in my leg - the ONLY serious injury I've had in over 30 years of dancing. When I started getting back on my feet, yoga became a part of my daily life, helping me heal and strengthen the leg, and stretch the tendons so it won't happen again. As a result of my daily yoga practice, I've increased my lung capacity, my flexibility - I used to not be able to 'fold forward' at all, and now can 'fold' almost flat! Yoga is restorative, helping us regain personal balance and peace, body strength and flexibility, learning to breathe deeper and really relax. Dancers can benefit so much from this practice, I wish it could be a mandatory part of learning the dance!
Embrace your personal peace and health with this easy and low-effort practice. I'll be adding more levels for those of you looking to build more strength down the line, but this DVD is great for anyone looking for improved heath and flexibility. If you have body issues, email me and we'll decide if there might be some alternate moves you can substitute for any you can't handle at present. For you older dancers, I can also put together a chair yoga class, so let me know if you're interested. I am certified in teaching yoga to the physically impaired and aging, so can make classes that will work for anyone.
If you're in the Southern Washington area, check out our in-studio yoga classes too.
Click here now to purchase our Yoga DVD for just $17. **

*PLEASE NOTE THIS PRICE IS FOR USA SHIPMENT ONLY. CONTACT ME FOR INTERNATIONAL SHIPPING RATES (PRODUCT COST IS THE SAME, BUT ADDITIONAL SHIPPING APPLIES)*

** We ship PRIORITY MAIL so you will get your shipment quickly. We can ship First Class Mail for a lower shipping rate - email me with your zip code and I can send you those rates and we can do the transaction by phone or I can send you a special PayPal link.**

We GUARANTEE you'll be happy with your purchase or return it within 30 days for a full refund.

Class Schedule Teacher Bio In-Studio Class Information