LEVEL ONE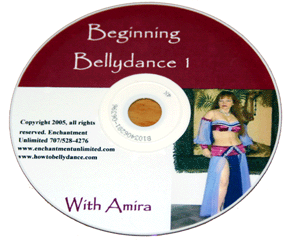 Starting from step one....
Suitable for any fitness level and NO dance experience needed.
This belly dance video or DVD includes everything you need to get started, and is structured just like you were in one of our live beginning belly dance classes.
Starting with a full warm up for gentle stretching and strengthening of muscles you will use in the dance, we take you through each individual muscle group, warming the muscles and getting you ready for the next level - isolations.
Isolating each muscle group is the foundation of belly dancing, and this video class makes it easy, moving progressively through each set of isolations.
From isolations we move into individual steps, building on the isolations we've already worked with so you feel comfortable with the progression of movements. Each move is explained many different ways - we all learn things differently, and no one explanation will work for everyone.
From the broken-down movement, we move into drilling it, making it more natural in your body, allowing your muscles to adjust to the movement.
In LEVEL ONE we cover all the basic moves:
Full gentle warm up and stretching

Basic isolations: ribcage and hips

Basic moves:
All bellydance moves are based on these basic moves. Subsequent videos add to what you learn here and take it as far as you'd like to go.
If you have questions on movements, support by phone or email is included with the purchase of any of our products, so you will not feel stuck if you have trouble with any moves.
Starting your classes right, with supported instruction, will help ensure that you do not have excess soreness or problems with adjusting to the workout. Your instructor, Amira, has worked closely with chiropractors throughout her dance career of almost 30 years, making sure none of the movements is intrinsically harmful to joints, muscles, tendons, etc. All our instructional videos and DVD's are covered by our 100% money back guarantee, so your success is our business. If you're not happy, send it back within 60 days, and you'll receive a full refund of the price of the video or DVD. Try one now.